'The Long Road Home' Provides An Intimate Look At Soldiers' Lives During Iraq War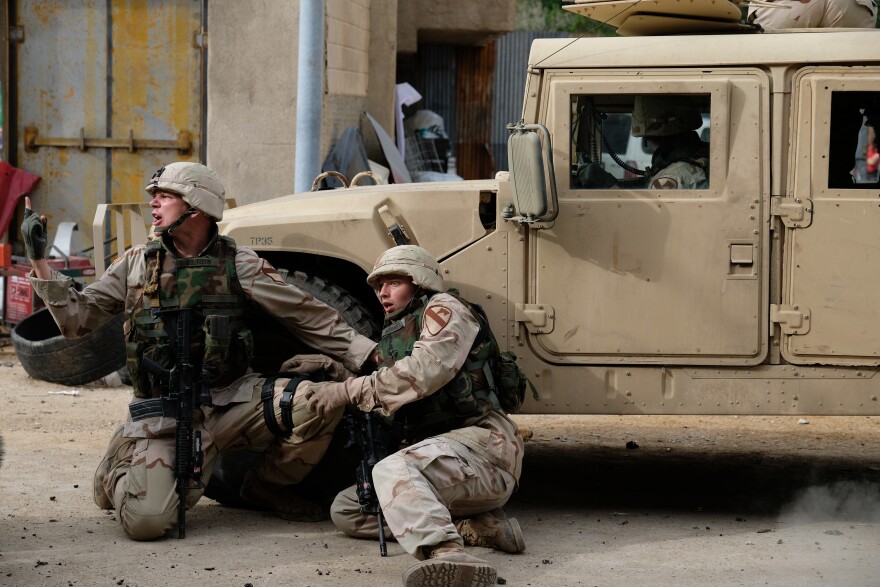 The National Geographic mini-series depicts the true story of an ambush that killed eight Americans and hundreds of Iraqis.
Author Martha Raddatz says she'll never forget one moment from the filming of The Long Road Home, a television mini-series adaption of her book about a deadly ambush during the Iraq War.
It was on location in Texas, late at night. "They recreated Sadr City, down to the dust and the dirt," Raddatz recalled.
"Minus the smell," added Eric Bourquin, who was part of the platoon that got ambushed, and who consulted on the series.
Raddatz was with the mother of one of the soldiers who died in the ambush.
"The actor who played her son was next to her, holding her," Raddatz remembered. "Tears are streaming down all our faces as we're walking through because it was so much like Sadr City."
Raddatz asked the woman if she's okay, if she wanted to leave. "She said 'No no no no, I want to be here, I want to know what it was like the night he died,'" Raddatz recalled. "And she sort of looked up to the sky, and said this is what he saw."
"All of this really happened to real people," added series creator Mikko Alanne, "and those of us who are recreating this for television must never forget that."
When the First Cavalry Division deployed from Fort Hood, Texas in 2004, they were supposed to be on a peacekeeping mission. But four days later, an Iraqi militia ambushed one of their platoons. Eight Americans and hundreds of Iraqis died.
Raddatz, an ABC News correspondent, chronicled that day in her book. The mini-series is airing this month on the National Geographic television channel.
Alanne says the entire cast and crew worked closely with veterans and their families, "and really included them in the process as our guides and our teachers. And that to me is really the most meaningful legacy of this piece."
Eric Bourquin was one of those teachers. He says initially, consulting on the film was hard. But there was something about being on set that helped.
"Veterans of the global war on terror won't be able to go back to their battlefields anytime soon, so being able to go on set was just a boon of itself by allowing us to return to our battlefields and experience in a safe environment and return to a safe environment," Bourquin said. "I can't even quantify just how healing that was."
Each episode of the miniseries tells the story of the battle from the perspective of a different ­­family. In the first episode, we meet Colonel Shane Aguero. The night before he leaves for Iraq, he sits down with his young son, Elijah, who's angry about his father's deployment.
Aguero tries to console him, but Elijah storms out the room, yelling, "I hope you never come back!"
Aguero did come back. But eight of his fellow soldiers didn't.
Aguero's platoon was working to clear sewage out of Sadr City streets when they were ambushed. Platoon gunner Eddy Chen was fatally shot.
"I was angry because my friend was dead," said Bourquin, who was Chen's roommate. "I was angry that we were being attacked when were just out there trying to help them. I remember just being furious at the whole situation."
In the series, the actor who plays Bourquin rushes to Chen's side, administering CPR as Chen slips away. It's wrenching reminder of the costs of war for soldiers, their families, and whole communities.
But Bourqin says the series is also, "a human experience that deals with love."
"It's a way for people to finally understand what's happening behind the scenes that's outside the media that's really happening in war."